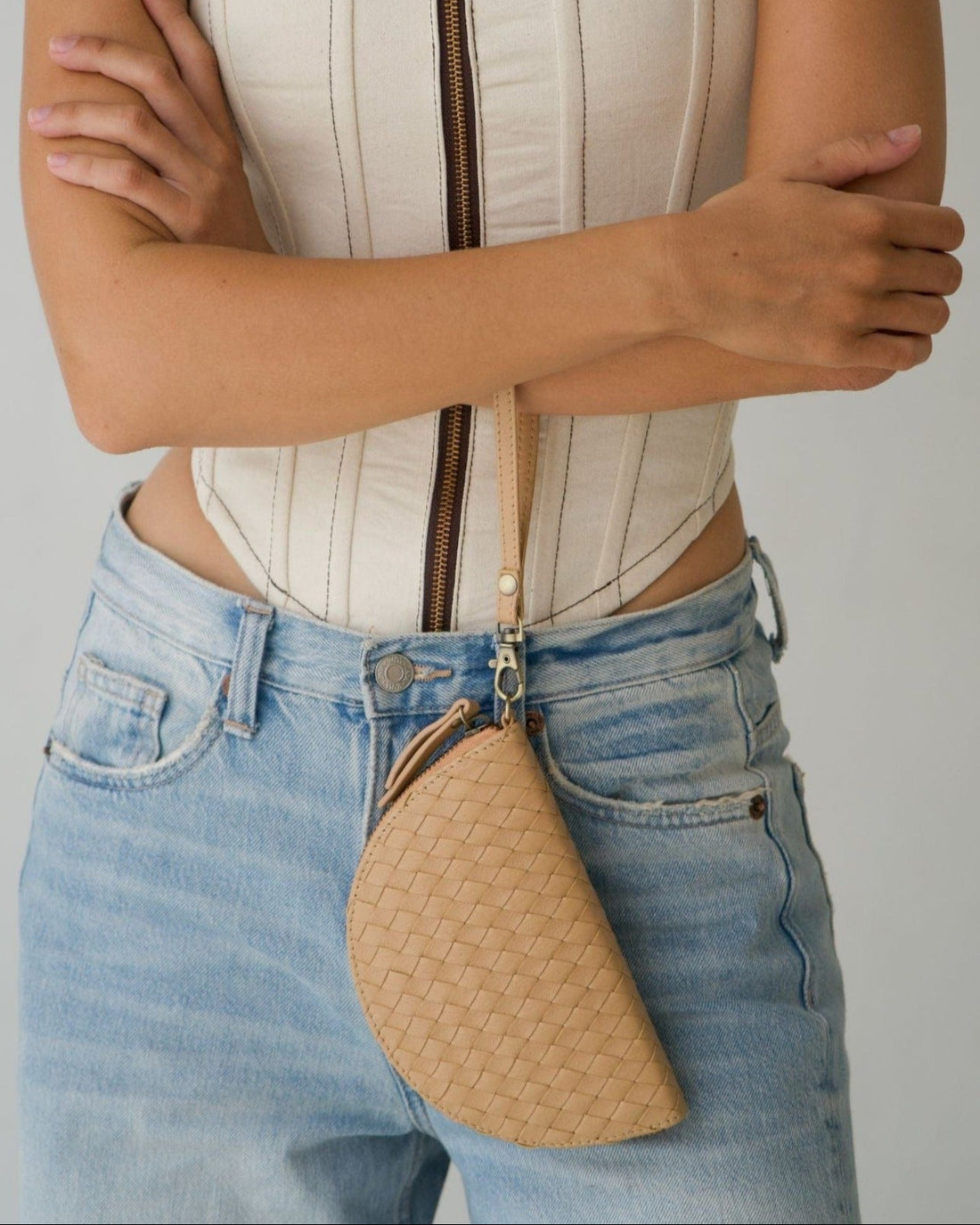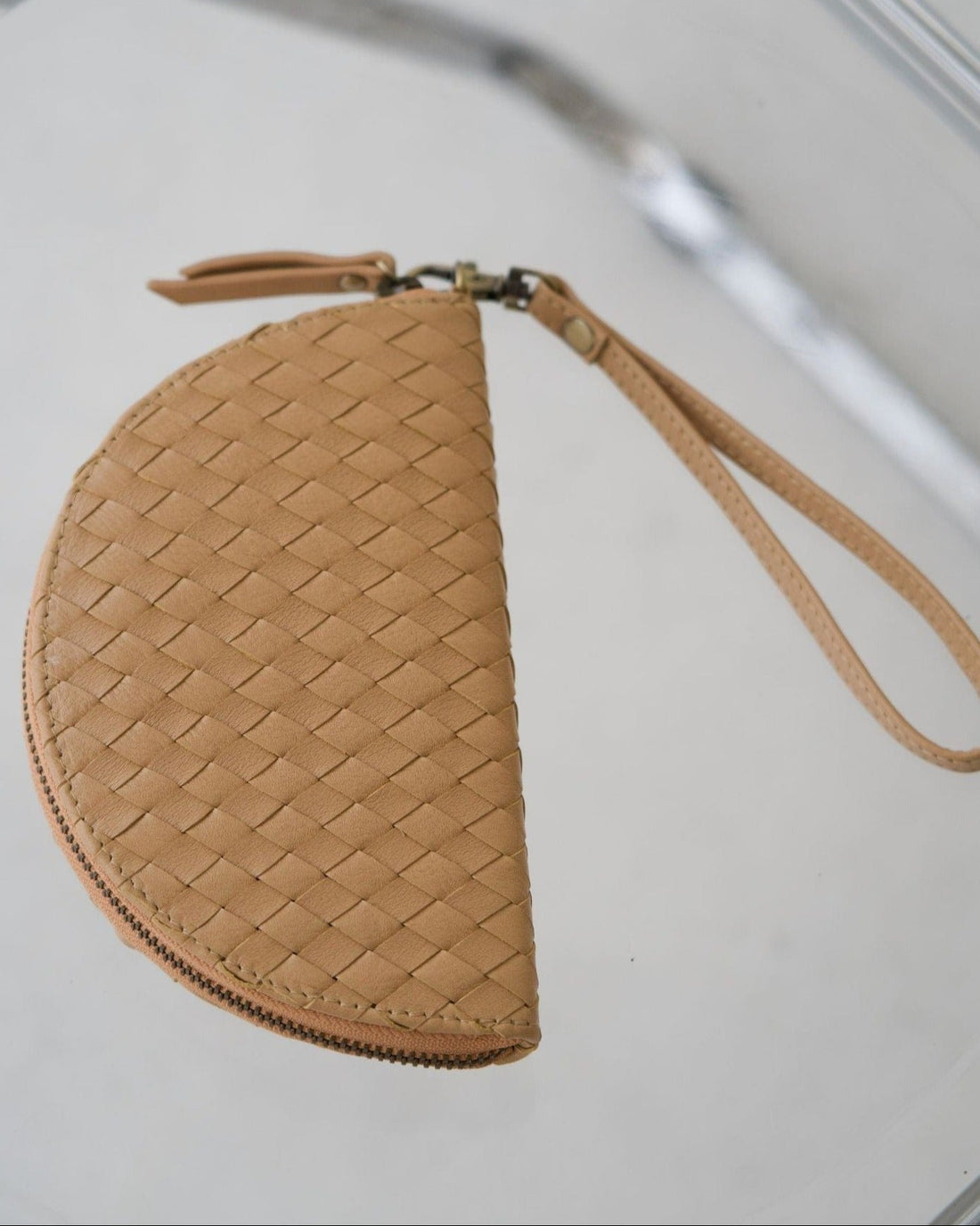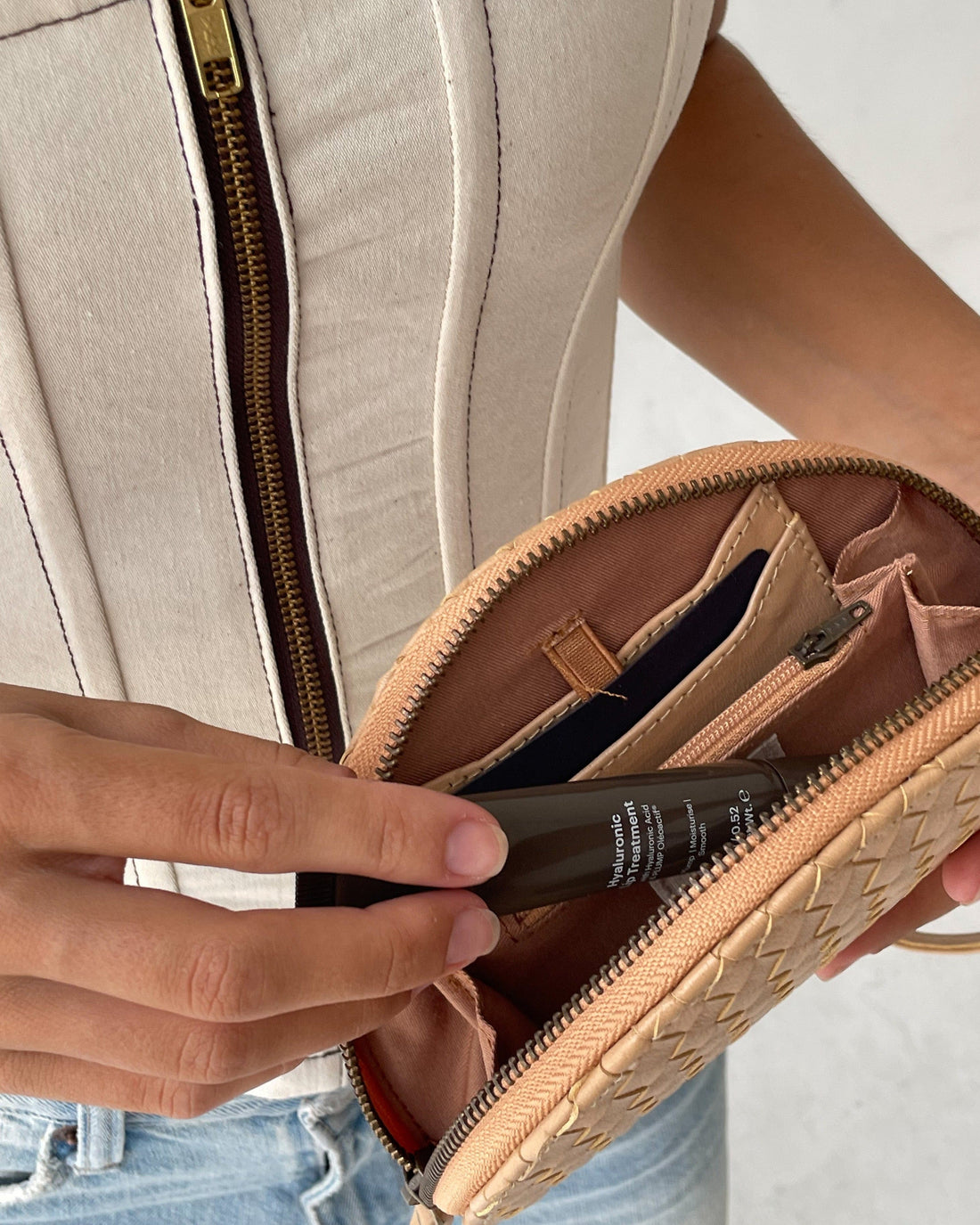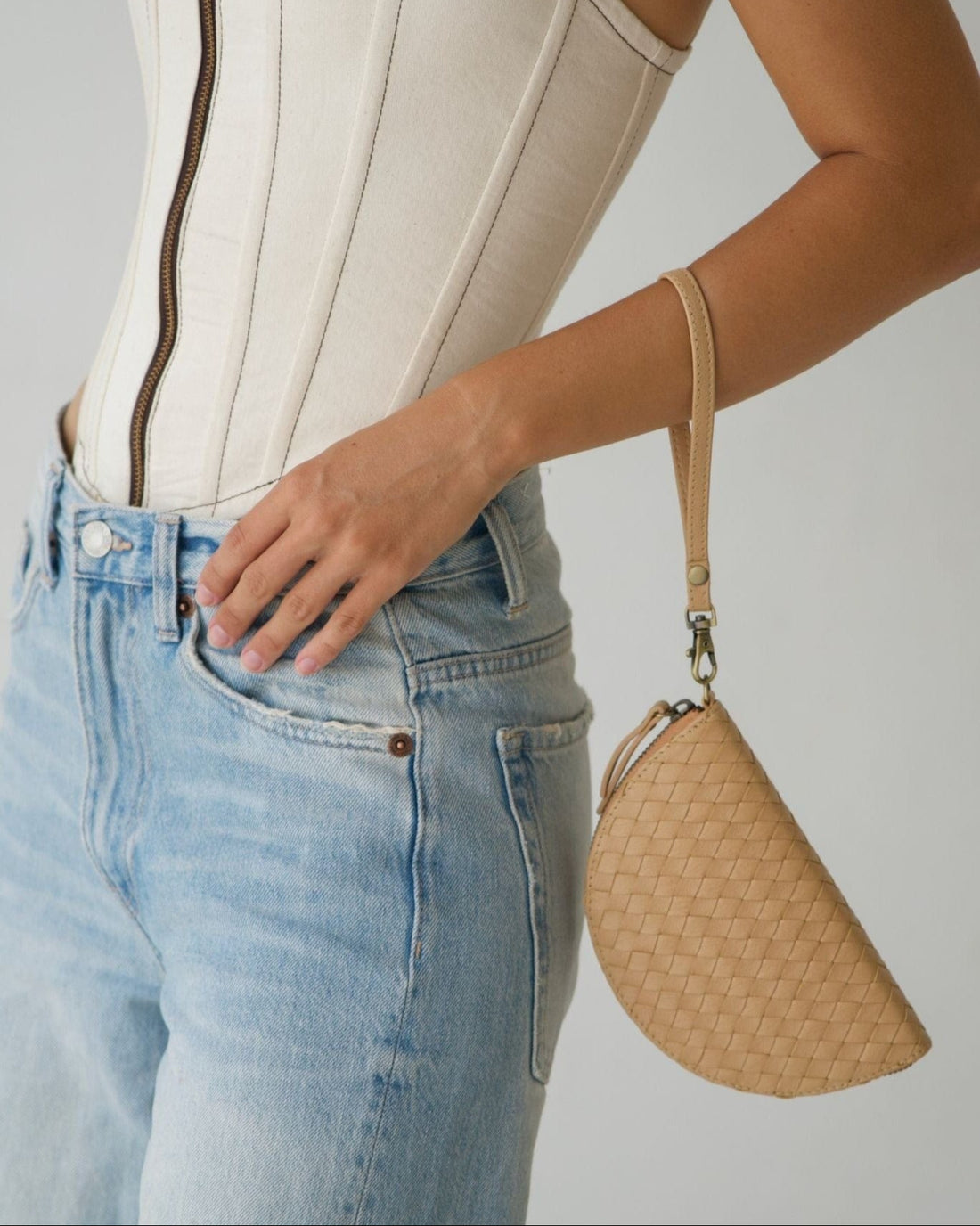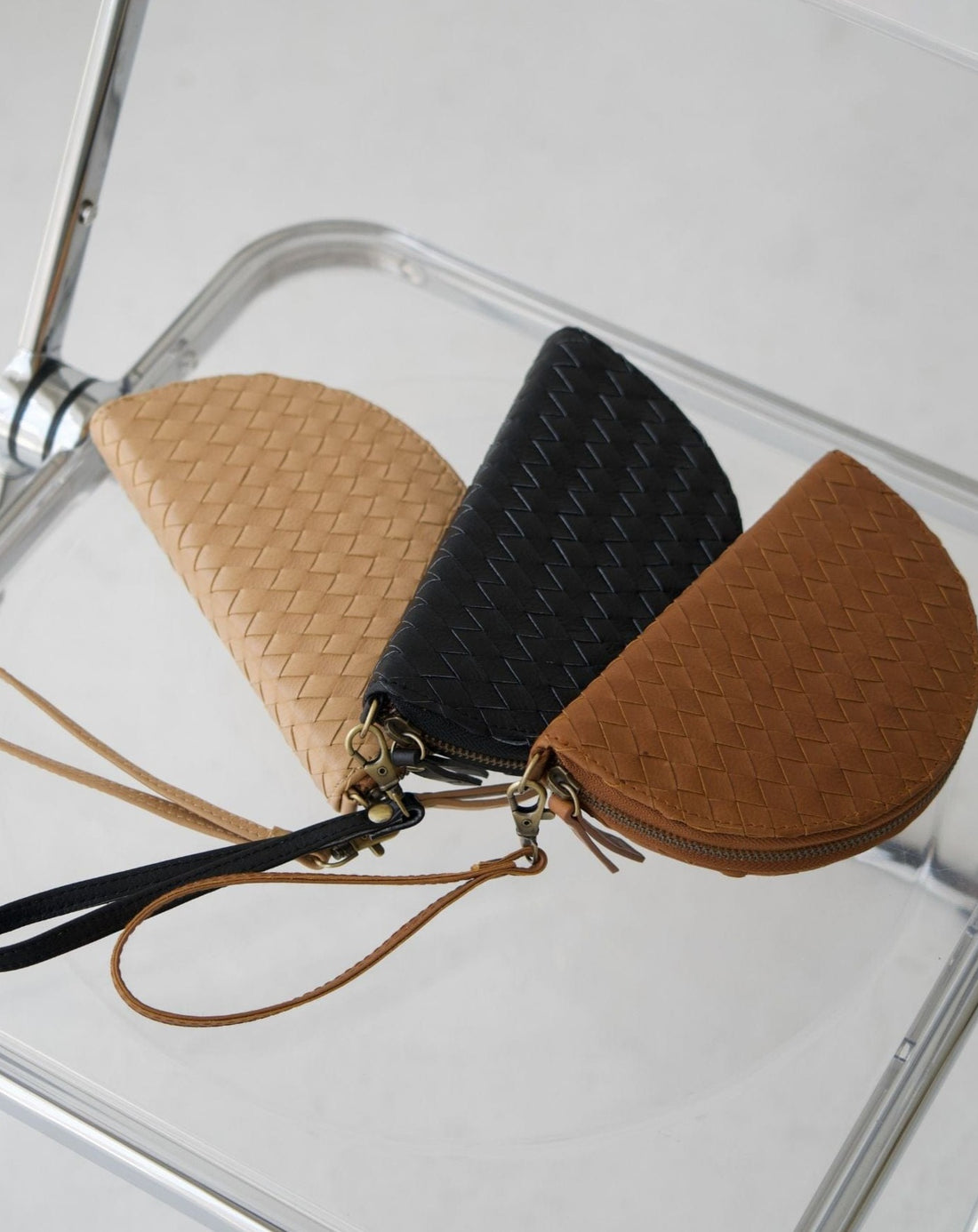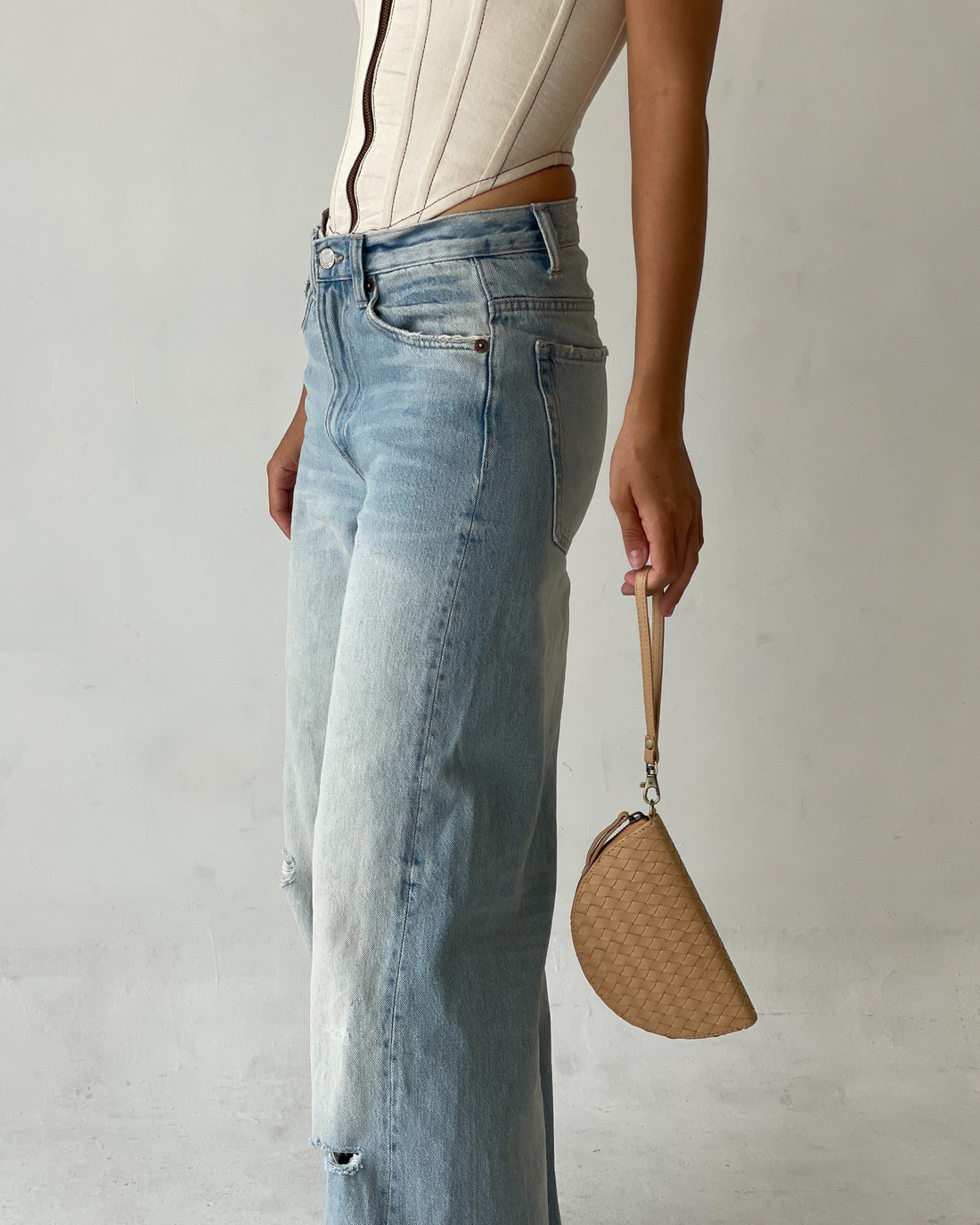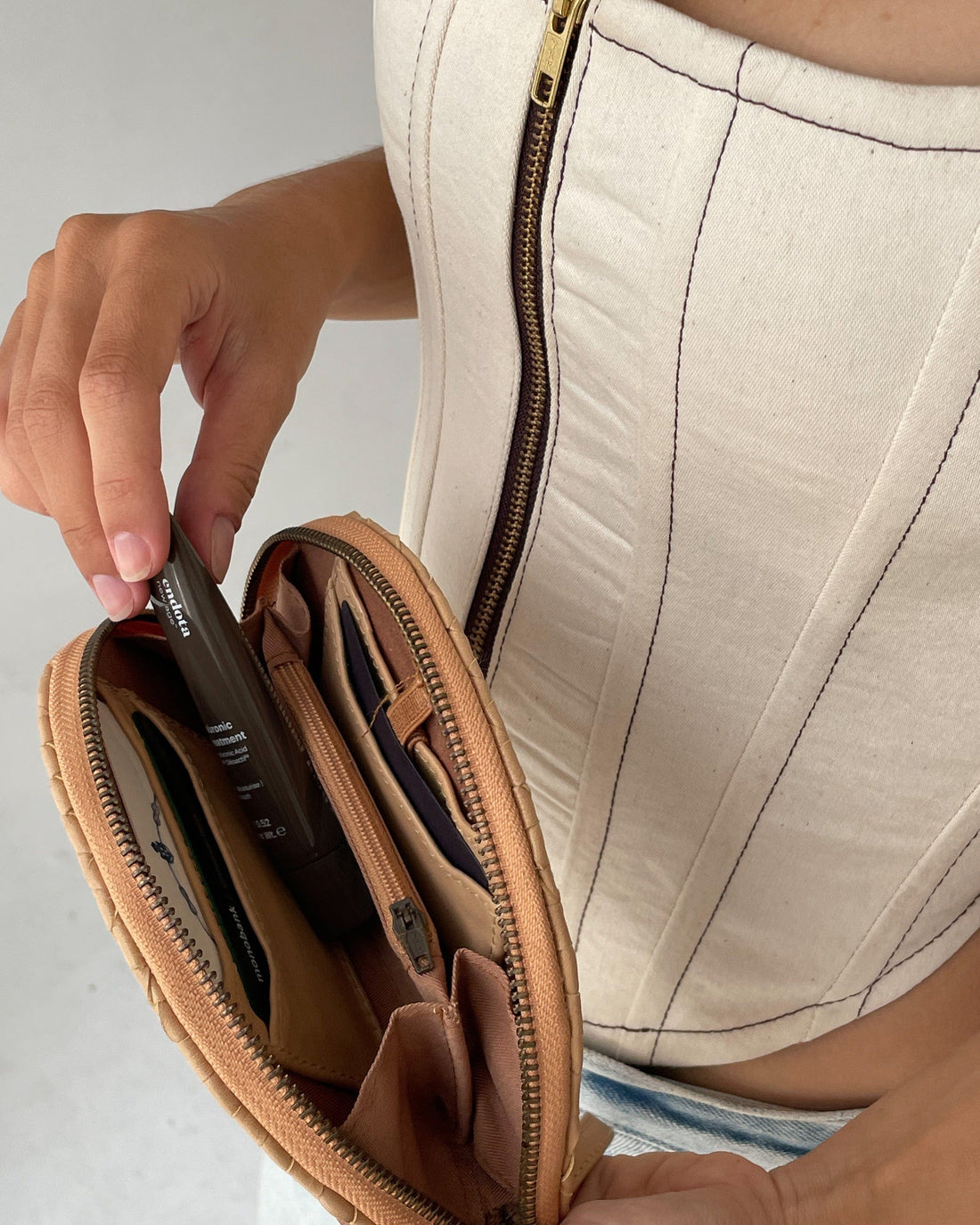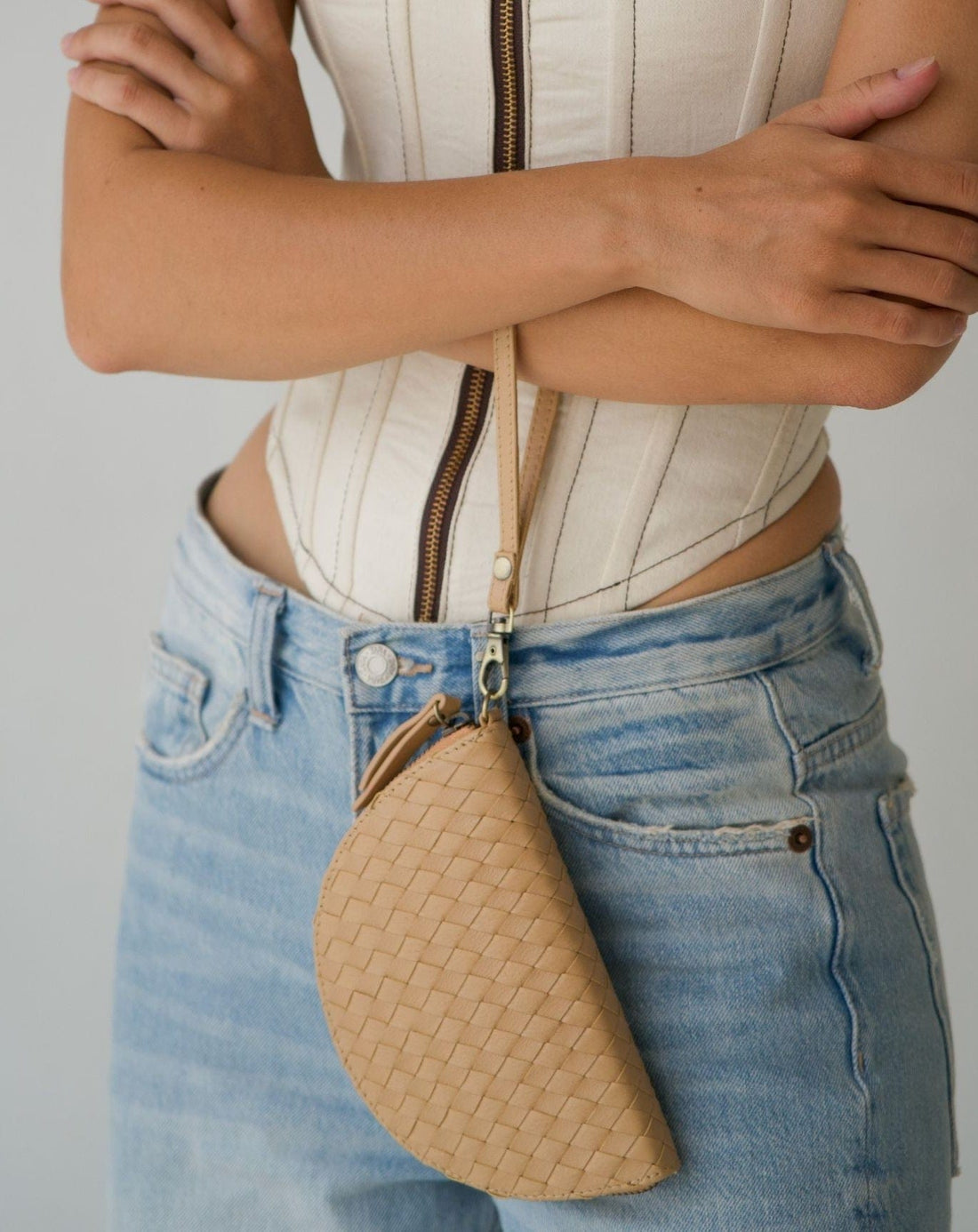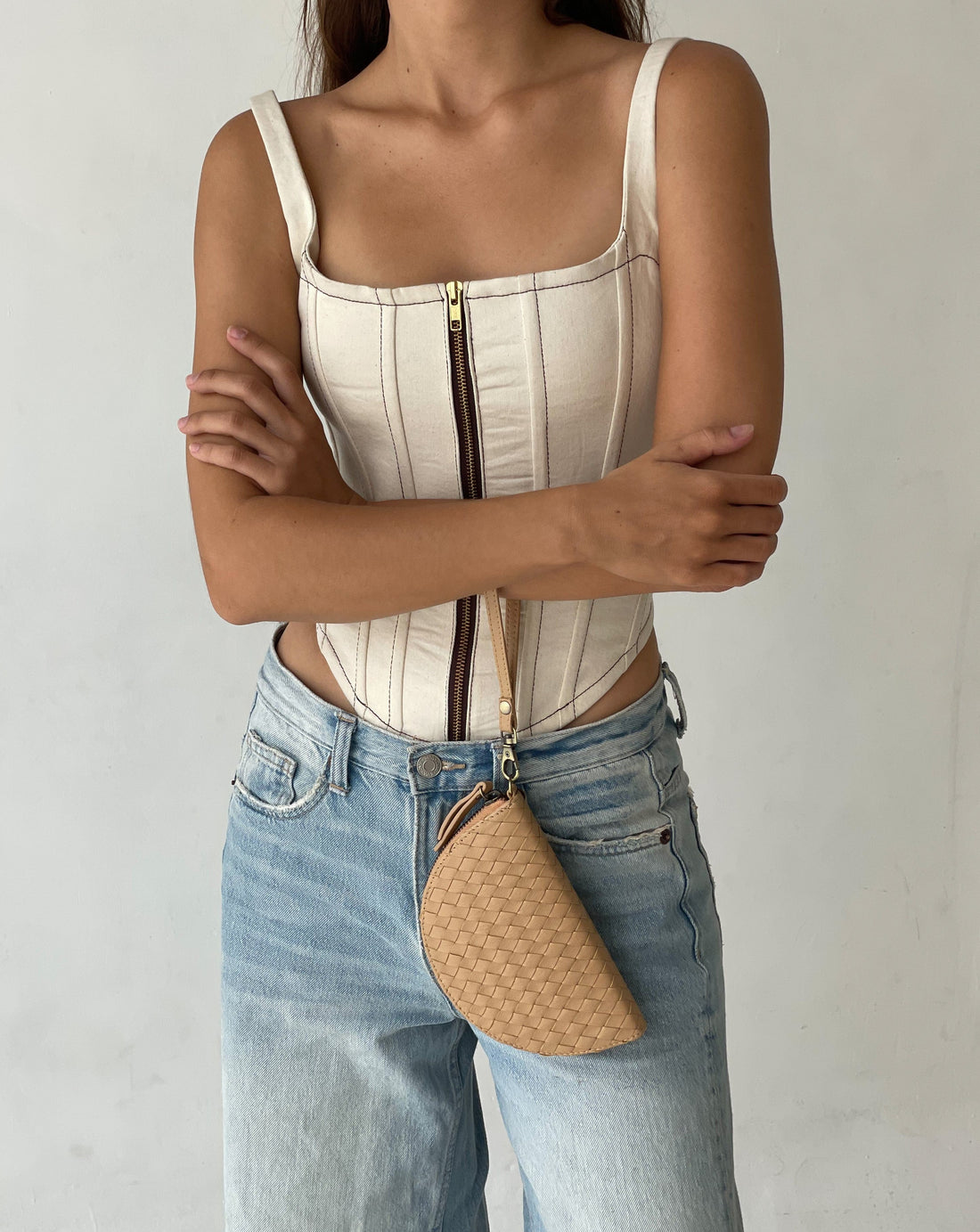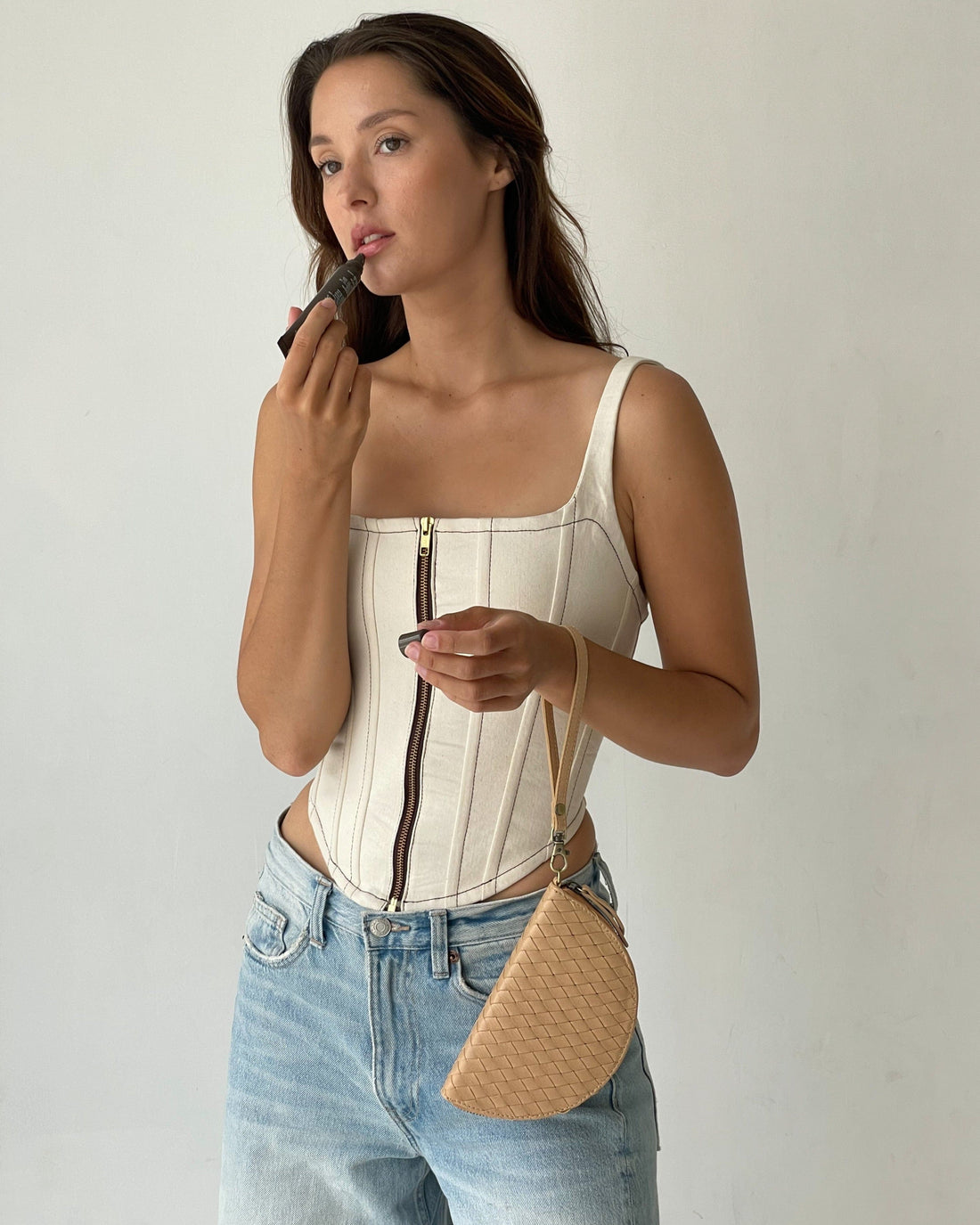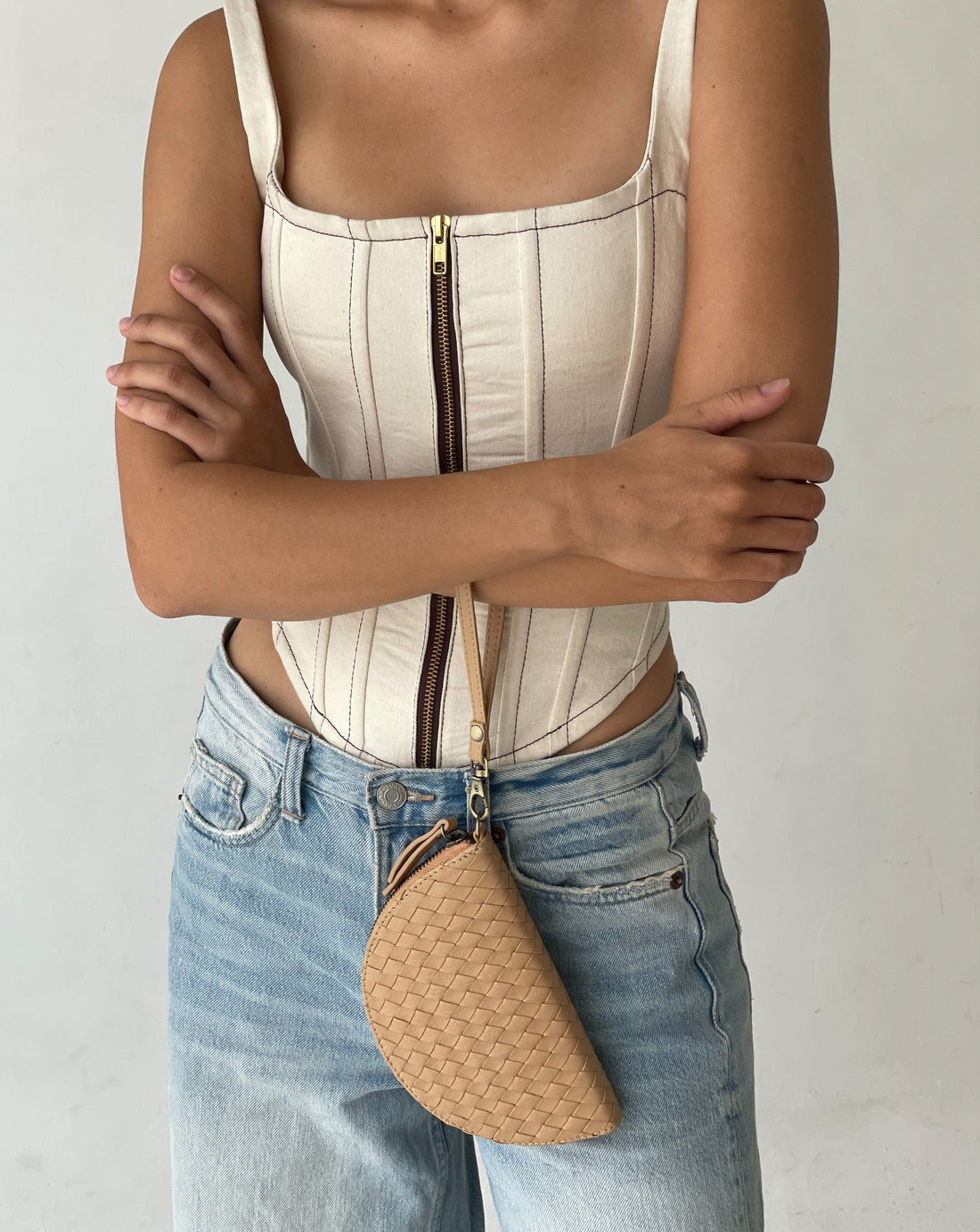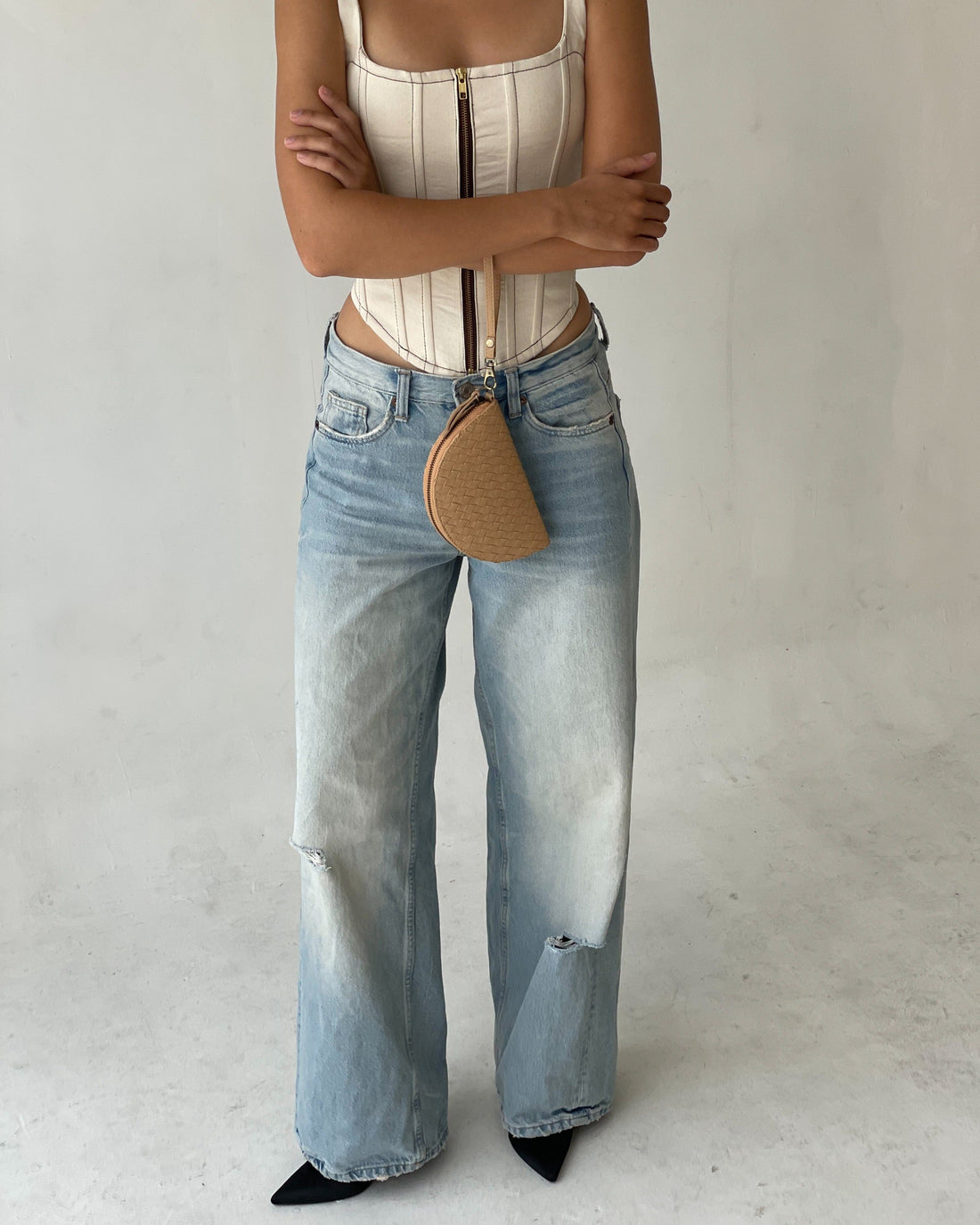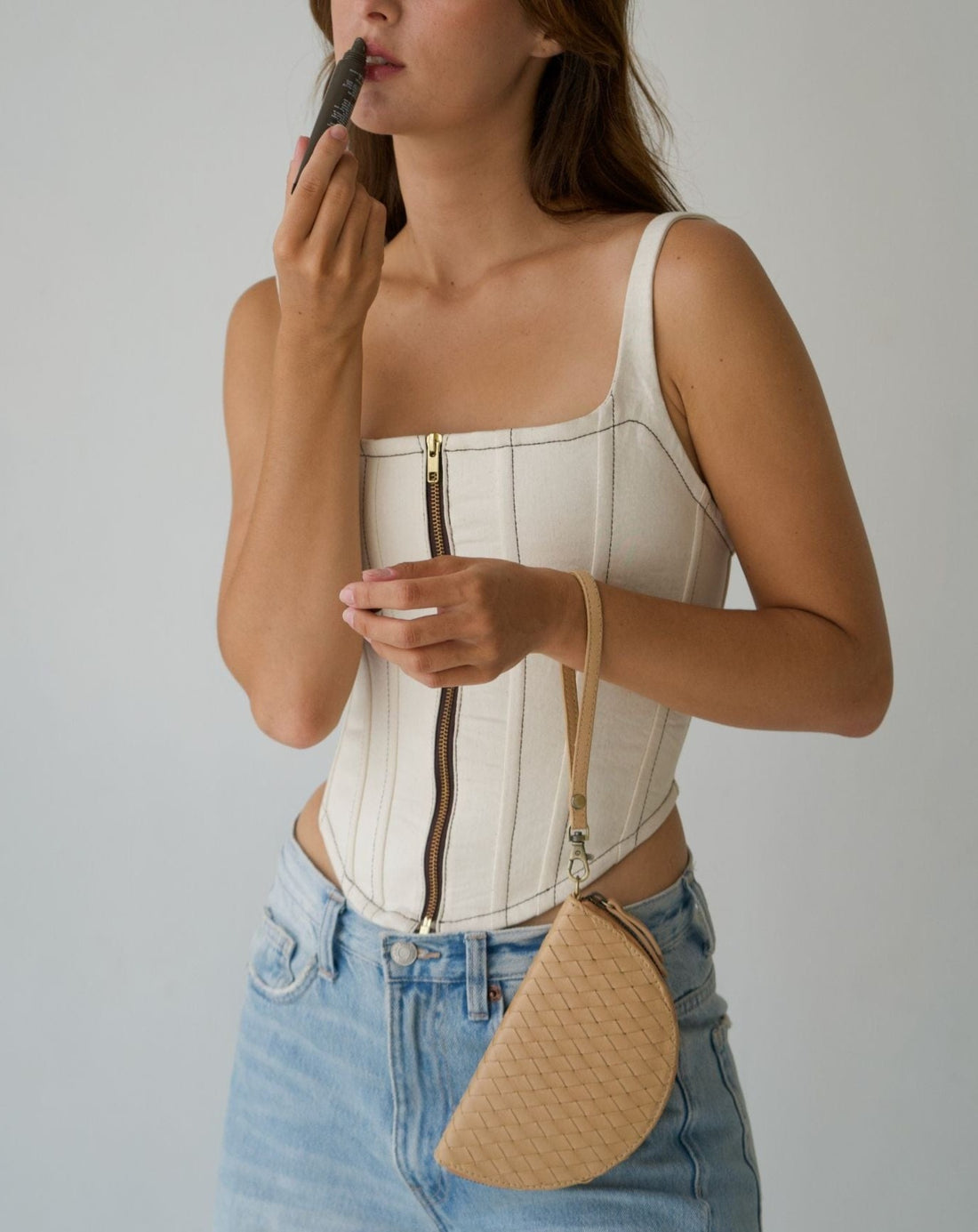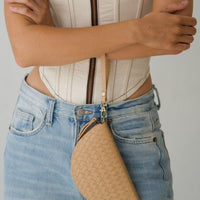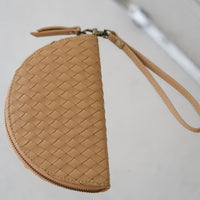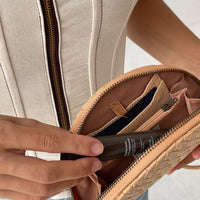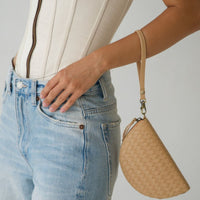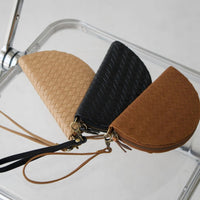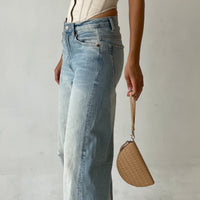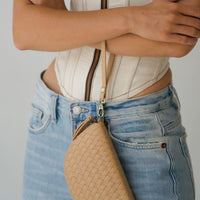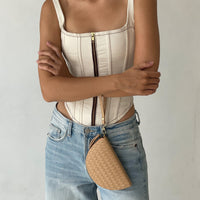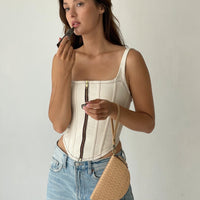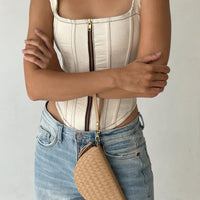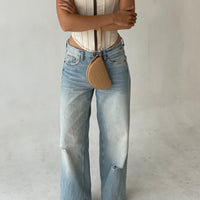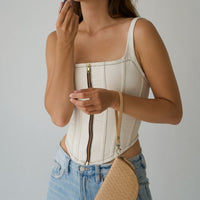 - 100% genuine leather 
- Handwoven by independent artisans
- Free shipping on North American orders over US $150 
- Carbon-neutral shipping on all orders
Designed with multi-functional minimalism in mind, the Woven Wedge Wallet can be worn as a clutch or used as an organization-booster that slots inside any MANDRN fanny pack. Slide in your cards, cash, lipstick and whatever else you need to keep close – she'll handle it all. 
Each Woven Wedge Wallet is handmade by highly-skilled artisans specializing in the creation of hand-woven and braided leather accessories. Using double the leather of our regular Wedge Wallets, the woven nature means each piece is as unique as the MANDRN muse who wears it. 
- 100% genuine leather
- Inner pocket with cotton-linen lining 
- 4 cardholder slots and zippered coin pouch 
- Small elastic holder for lipstick or essential oil roller 
- Small carry strap with brass clasp 
- Zipper closure 
- Wallet dimensions: 7" x 1" x 3.5"
All items are sent from our US fulfillment center in Pennsylvania, USA, using 100% carbon neutral shipping. This means that we purchase the amount of carbon credits needed to offset the emissions of your shipment, which then go towards planting trees in Brazil. 
Please keep in mind that we cannot guarantee shipping and delivery times. Expect an additional 1-2 days of processing time before your order is dispatched, on top of the courier's shipment time frame.
UNITED STATES: 
Economy Shipping (USPS Priority Mail) arrives in 5-9 business days for $7.99 or is FREE if you spend over $150USD (after discount)
Express Shipping (UPS 2nd Day Air) arrives within 1-3 business days for $24.99 (after discount) 
CANADA: 
Please keep in mind that our shipping estimates do not include time spent at customs nor duties.
FREE UPS Expedited shipping (3-7 days) if you spend over $200 USD (after discount)
UPS Expedited arrives in 3-7 business days for $14.99
UPS Express Shipping arrives in 2-5 business days for $39.99 
INTERNATIONAL: 
Please keep in mind that our shipping estimates do not include time at customs, which varies by country and can take up to four weeks to complete.
Economy International Shipping arrives in between 6-18 business days for $19.99 
FREE UPS Expedited shipping (3-10 days) if you spend over $250 USD (after discount)
UPS Expedited arrives in 3-7 business days for $29.99
UPS Express Shipping arrives in 2-5 business days for $39.99
DUTIES: As we ship from the US, there may be additional duties incurred to Canada, Europe, and Asia, which MANDRN does not cover.
If you've received a product and It doesn't live up to your expectations, or you don't love it within 30 days we will gladly except a return for a full refund (minus return shipping label costs if we generate a label).
We offer 1 free exchange for all domestic USA purchases! 
Please keep in mind, we only may generate return shipping labels for North American clients, not the rest of the world (Europe, Asia.)
All final refunds, return label costs are deducted from the final amount. See full policy here.
All sale items purchased during our VIP, Black Friday and holiday sales are final sale- with no returns or exchanges possible.
Cleaning & Storage
To help sustain the life of your MANDRN bag, avoid direct contact with water, moisture and heat. Clean your bag with a damp cloth monthly to rub off any built-up dirt. Use a leather conditioner regularly (every 4-6 months) and store in a cool, dry place between wears. More details here.
Dye Transfer
Just like with a new pair of jeans, it's normal for leather dye to loosen and transfer to other materials – especially in the beginning. Our genuine leather fanny packs and accessories are no different. Color transfer is always possible (even more so when wet), so avoid wearing light clothing and the rain until your bag is properly worn-in. 
The reverse is possible too. For our Bone colorway and lighter-colored bags, avoid dirt, rain and dark clothes (especially in the first few wears) to avoid picking up dye or stains. 
If your bag does get wet, carefully wipe it down with a light cloth to catch any dye that might've loosened from contact with moisture.
Made with love
Each MANDRN accessory is handmade following a circular love model. From Bali to Mexico, we work with suppliers from around the globe leading with compassion and friendship as we honor their dedication to fine artisanal craftsmanship.
Our Suppliers